Just over 13 kilometres off the coast of Townsville city, between the Great Barrier Reef and the mainland, lies an island paradise called Magnetic Island.

It got its name from early European explorer Captain James Cook, who sailed by the island on July 7, 1770.

But long before this date the original custodians, the Wulgurukaba people, called it Yunbenun.

Two and a half centuries later, the island is still attracting people, such as kayak tour guide Craig Crichton.

Crichton grew up on sheep and dairy farms and didn't see the ocean till he was 12 years old.

'I've probably been a bit of an outcast in my family. I've always been interested in the water and turtles are my favourite animal,' he says.

'Because I'm out on the water so much we can help with the turtle rescues or we could be the first to contact Townsville to come across and rescue the animal.'

Until four or five years ago, only a few people were involved in rescuing sick or injured turtles, says Crichton, who notes that more community members are getting involved and working with traditional owner Uncle Brian Johnson.

Uncle Brian says, with 80 per cent of the island protected, the place is teeming with nature.

'We have the turtle nesting just down the front, this beautiful creek, scrub fowls, white belly sea eagles and brahminy kites,' he says.

'We're trying to keep culture with the landscape and with the people.

'We need that other younger generation to come up so all their kids can enjoy this.'

Townsville filmmaker Robert Crispe says Crichton and Uncle Brian Johnson have the same values when it comes to caring for land and sea country.

'These things are not always easy, like in this case maintaining land and there are hurdles in it but, it's always rewarding. I think that's the heart of Yunbenun Charm. That emotion about being fulfilled.'





For more information click here......


Conversation
Add to Conversation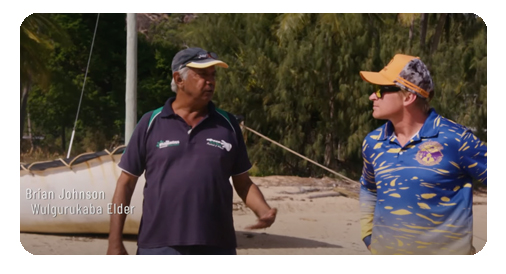 <! ----------->

Rating for October


| | | | | |
| --- | --- | --- | --- | --- |
| | 0 | | | 0 |
Please click to rate 'thumbs up' or 'thumbs down'...
Activity
How are we called to taste creation more often?

How are we called to care for land and the environment also?
(Print Page)
Page Counter
4 visitors this month.