God of yesterday,
today, and tomorrow,
We ride these
roller coasters
of emotions.
Sometimes
these
mountains
pull us
down.

In suffering, anger,
negative-talk,
or comparison.
Teach us to reflect
mindfully on
"Whether what we are doing
and thinking,
can help us, or harm us"?
For it is not in instant knowing,
that we find a solution.

Rather,
it is embracing,
the dance of wonder,
attracted to
positive self-talk,
by reflecting the
courage of the
saints.

We stand
for the good,
despite
our fears.
Call us, to
move out
beyond our
comfort zones.
May we recognise God
as you shower us
each day
with three grateful things.
Give us a curious spirit,
to ask questions of
"what, why and how".

God of yesterday, today, and tomorrow,
dispel these shadows
as we become
your instruments of hope,


you call us to be.


Amen.



For more information click here......


Conversation
Add to Conversation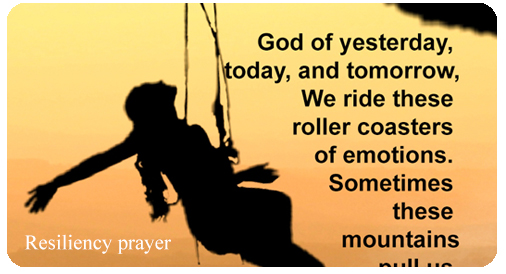 <! ----------->

Rating for October


| | | | | |
| --- | --- | --- | --- | --- |
| | 0 | | | 0 |
Please click to rate 'thumbs up' or 'thumbs down'...
Activity
Share this prayer with your family, students, staff, community and loved ones. Download and PRINT the bookmark.

Download and PRINT the bookmark.

Share the bookmark with your loved ones, friends and community members.

Download


(Print Page)
Page Counter
5 visitors this month.