Pope Francis made a heartfelt appeal for peace in Ukraine at his public audience in the Vatican on Feb. 23 as the situation continued to deteriorate between Russia and Ukraine. He appealed to the consciences of "those with political responsibility" and "all the parties involved" to "refrain from any action that would cause even more suffering to the people, destabilizing coexistence between nations and bringing international law into disrepute."

He also appealed "to everyone, believers and nonbelievers alike" to make March 2—Ash Wednesday—"a day of prayer and fasting for peace."

Francis looked distressed, his voice betraying emotion, as he addressed hundreds of pilgrims from around the world in the Vatican's Paul VI Audience Hall this morning. He had been briefed on the alarming crisis and the threat that Russia would invade Ukraine, a nation of 44 million people that gained its independence in 1991 following the collapse of the Soviet Union. Ukraine is the second-largest country in Europe by area, after Russia.

"My heart aches greatly at the worsening situation in Ukraine," Pope Francis remarked today. "Despite the diplomatic efforts of the last few weeks, increasingly alarming scenarios are opening up," he said, "and like me, many people all over the world are feeling anguish and concern. Once again the peace of all is threatened by partisan interests."

Today, Pope Francis made a personal plea to political leaders, saying, "I would like to appeal to those with political responsibility to examine their consciences seriously before God, who is the God of peace and not of war; who is the Father of all, not just of some, who wants us to be brothers and not enemies."

Pope Francis called on all people, "believers and nonbelievers alike," to pray and fast for peace next Wednesday, March 2, which for most Christians is also Ash Wednesday and the beginning of Lent. "Jesus taught us that the diabolical senselessness of violence is answered with God's weapons, with prayer and fasting," the pope said. "I encourage believers in a special way to dedicate themselves intensely to prayer and fasting on that day."



For more information click here......


Conversation
Add to Conversation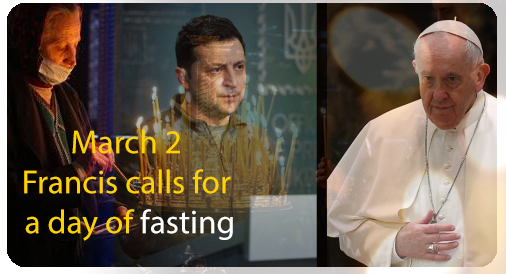 <! ----------->

Rating for October


| | | | | |
| --- | --- | --- | --- | --- |
| | 0 | | | 1 |
Please click to rate 'thumbs up' or 'thumbs down'...
Page Counter
4 visitors this month.