Script by Marist Father Edwin Keel sm

Setting:
Our text is from the Book of Revelations. This is a book of visions, dreams and nightmares! In our text we hear of a woman who gives birth to a son 'destined to shepherd the nations'. The child and woman are attacked, but God saves them both.

Grace:
Ask God for the grace to feel more deeply his great love for you.

Reflection:
The sign in the heavens: a woman clothed with the sun, themoon under her feet a crown of twelve stars, giving birthto a son who will shepherd all the nations.

Conversation:
Speak to Mary about your struggles and your fears. Be open andfrank. Allow her to comfort, strengthen and encourage you withher strong faith and gentle manner.

Journalling:
Record your reflections and anything you have learned or felt,in your journal. Write at least 1 page.



For more information click here......


Conversation
Add to Conversation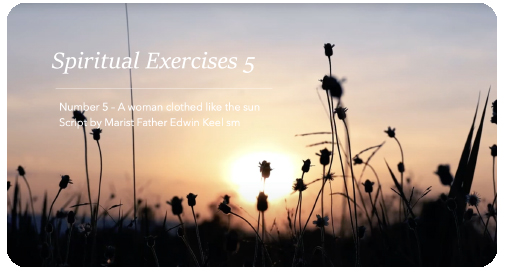 <! ----------->

Rating for October


| | | | | |
| --- | --- | --- | --- | --- |
| | 0 | | | 0 |
Please click to rate 'thumbs up' or 'thumbs down'...
Page Counter
2 visitors this month.