As many thousands of people were killed. There are many thousands exposed in sleeping outside in freezing conditions. The Turkey and Syrian governments are asking the International Community to respond by sending support and aid. Please watch these videos to make people aware of what is going on. Please give to the many organisations such as Caritas and UNHCR who have people on the ground helping these people.

Nine - TODAY
Host fights tears reporting on Turkey-Syria earthquake rescues


Collapsing buildings, aftershocks and rescue efforts: Earthquake kills thousands in Turkey and Syria


Rescuers Miraculously Pull Out Survivors Over 24 Hours After Massive Earthquake In Turkey And Syria
https://www.youtube.com/watch?v=YLqb06Nb830

Caritas Internationalis Helping Victims of Earthquakes in Turkey & Syria | EWTN News In Depth


Turkey Syria earthquake: death toll rising as 'window of rescue' closing




Syria earthquake: Rebel leader calls for urgent international help


Why is earthquake aid to Syria so slow?



Donate to Caritas

Donate to UNHCR



For more information click here......


Conversation
Add to Conversation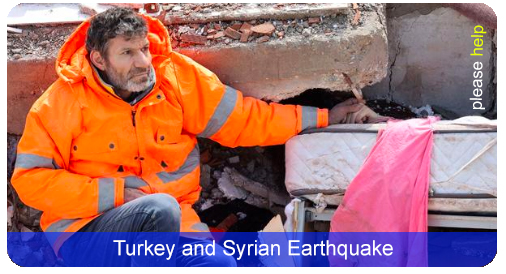 <! ----------->

Rating for October


| | | | | |
| --- | --- | --- | --- | --- |
| | 0 | | | 0 |
Please click to rate 'thumbs up' or 'thumbs down'...
Page Counter
2 visitors this month.