In this Square faculty event, Indigenous leader Thomas Mayo and journalist Kerry O'Brien discuss the 'Voice to Parliament' handbook they co-authored. The handbook aims to provide information about the Voice to Parliament concept and upcoming referendum in Australia. The event acknowledges the traditional custodians of the land and emphasizes the importance of this topic. Thomas Mayo explains that the handbook was created to inform and empower people, particularly those supporting the 'Yes' vote in the referendum, by providing facts and personal insights. They discuss the significance of the Voice to Parliament in addressing Indigenous representation and the need for a consistent Indigenous voice in government decision-making.

The conversation also delves into the nature of referendums in Australia, where a simple 'Yes' or 'No' vote can lead to changes in the Constitution. Kerry O'Brien emphasizes the simplicity of the proposed change, which involves acknowledging Indigenous Australians and establishing an advisory body to represent them on key policy areas. He highlights the importance of bipartisanship and the potential for this referendum to succeed given the evolving societal attitudes and understanding of Indigenous issues.

The discussion addresses concerns about compensation and clarifies that the primary focus of the Voice to Parliament is Indigenous representation and improved policies rather than compensation. Kerry O'Brien emphasizes that any compensation-related matters would be handled separately, such as through a treaty process. Finally, the potential global implications of a 'No' vote are discussed, with Thomas Mayo expressing the hope that Australia, known for its fair-go values, will uphold its reputation by recognizing Indigenous voices and rights on the national stage.



For more information click here......


Conversation


Social Justice - How can the process of See, Judge, and Act encourage dialogue and open communication, creating spaces for diverse voices and perspectives to be heard and valued in discussions about social justice in relation to the content?
(By A. D. - Marist Laity - from AUSTRALIA - 2023-9-1)


Add to Conversation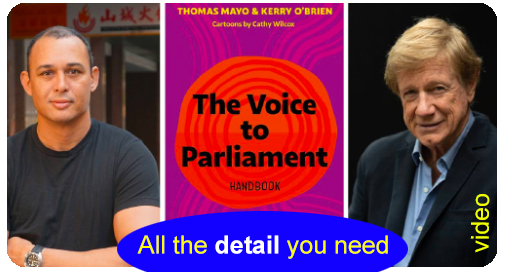 <! ----------->

Rating for October


| | | | | |
| --- | --- | --- | --- | --- |
| | 0 | | | 0 |
Please click to rate 'thumbs up' or 'thumbs down'...
Activity
Watch the video by clicking play.

Click the RED thumbs up above.

Share this page by clicking the SOCIAL media icon below.
(Print Page)
Page Counter
6 visitors this month.