The amazing Champagnat Week 2021 resources provided to Marist Schools and Ministries by the Marist Association of Saint Marcellin Champagnat. A gift that keeps giving. We hope all 56 schools and ministries in Australia are enjoying them.

We now share them with Marists worldwide to download and use in preparation for this Sunday's Feast Day of Saint Marcellin.

We particularly encourage our extended Marist Family amongst the Marist Fathers, Marist Sisters and the Marist Missionary Sisters, Marist Laity groups, ex-students and staff of Marist schools across the globe to take them and use them. Stop to pray and give thanks on Sunday in your homes and places where you are for the gift of the life Saint Marcellin to the world and the many thousands who followed his lead to take up Jesus' call from Matthew's Gospel to 'go and make disciples of all nations'. His simple wish was to leave the world a better place especially for the young. I think this continues to be a strong desire in 2021.God bless.



For more information click here......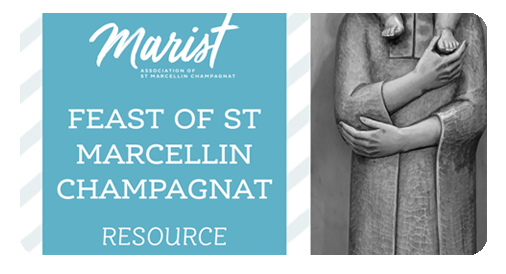 Date
05 June 2021

Tag 1
Teaching

Tag 2
Formation

Tag 3
Events

Source Name
Marist Formation Team (MLF) - Marist Association of Marcellin Champagnat

Source URL
https://static1.squarespace.com/static/5...
Activity
Click on the Source link to download the PDF.
Page Counter
10 visitors this month.