In a simple ceremony on March 11 an indigenous cross was blessed by Fr Paul Glynn SM in the grounds of Villa Maria monastery, Hunters Hill. The cross is an initiative of Holy Name of Mary parishioner, Maryanne Knoblanche, who for thirty years has accompanied members of the indigenous Catholic community at Mt Druitt in Sydney's outer west.

Maryanne invited artist, Jade Jackson, from the Mr Druitt community to paint the cross depicting the four seasons and which would remind Villa Maria's visitors of the original dwellers of the land.

Those attending the ceremony included members of the Maryvale/Montbel Marist community. the indigenous community of Mt Druitt and other friends.



For more information click here......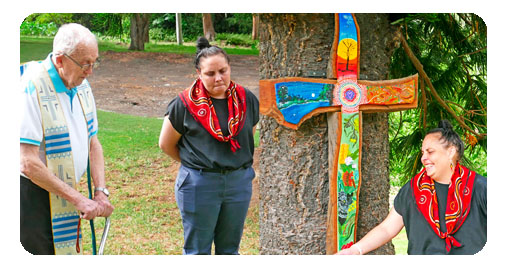 Activity
Listen to the audio by clicking the play button.
Page Counter
13 visitors this month.