Often at school we learn about Maths and English. But what about the school of life? What swift summary of the building blocks of what makes life work better. Check this video out. This is inspiring. Reflect on this and share with those you love.

First, accept imperfection,
We are inherently flawed and broken human beings. Perfection is beyond us. Despite our intelligence and our science. We are from close up, scared, unsure, fall of regret, longing and error. No one is normal. The only people we can think of as normal are those as, yet we don't know very well.

Second, friendship,
Recognising each one of us are weak, mad, mistaken, should inspire compassion for ourselves and compassion towards other people. Knowing out to reveal our vulnerability and brokenness becomes the bedrock of true friendship which we universally crave. People do not reliably end up with the lives they deserve. We should embrace the concept of tragedy. Random terrible things can and do befall most lives. We may fail and be good. Therefore, need to be slower to judge, and quicker to understand. Be kind.

Third, know your insanity,
We cannot be entirely sane. But it is a basic requirement of maturity we try to understand the ways which we are insane. We can warn others we care about what our insanity might make us do early and in good time. And before we have caused too much damage. We should be able to have a ready answer and never take offense if someone asks us so in what ways are you mad. Most of the madness comes down to childhood. Which will in a way unique to our situation have unbalanced us. No one as you has had a normal childhood. And that is no insult to the efforts of families…….



For more information click here......

<! link rel="stylesheet" href="style.css" type="text/css">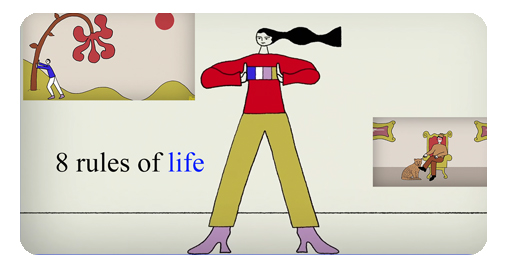 <! ----------->

Rating for May


| | | | | |
| --- | --- | --- | --- | --- |
| | 0 | | | 0 |
Please click to rate 'thumbs up' or 'thumbs down'...
Activity
Click play on the left....

Often at school we learn about Maths and English. But what about the school of life? What swift summary of the building blocks of what makes life works better. Check this video out. This is inspiring. Reflect on this and share with those you love.
(Print Page)
Page Counter
35 visitors this month.