More than 200 people were killed or injured in Yemen in March, the deadliest so far this year. The world's biggest humanitarian crisis has exacerbated with a second wave of Covid-19 infections. The UN is urging for a ceasefire and eventual end to the war.

The United Nations Special Envoy for Yemen appealed on Thursday to warring parties to implement a nationwide ceasefire and agree on a date for peace talks, in line with a plan to end their conflict. Briefing the UN Security Council, Martin Griffiths highlighted international unity in support of ending six years of fighting between Yemeni Government forces, backed by a Saudi-led coalition, and the Houthi rebels.

The UN envoy said that most Yemenis consulted about the conflict "insist that ending the war is the simple, most important objective". "This massive popular consensus in favour of peace exists in all conflicts. The people are always the champions of peace", including Yemenis, he said.

Silencing the guns

Griffiths said Security Council unity is reinforced by diplomatic unanimity and specific actions on the part of several key countries, such as Oman, Saudi Arabia and the United States in support of a ceasefire. He spoke about what such an agreement would mean for the people.

"The nationwide ceasefire,' he said, 'means that the guns will fall silent; and the roads long blocked by front lines will open progressively – not in a day, but in short order for the passage of goods, humanitarian first, and then for the free movement of people; for those children to go to their schools without hindrance and for workers to return to their place of work across the lines that have impeded that."

The UN envoy expressed hope, "perhaps even a dream", that parties will "agree with a date to the resumption of peace talks under the auspices of the United Nations". This political dialogue, he said would be inclusive, Yemeni-owned, Yemeni-led and would aim to sustainably and comprehensively end the conflict, which is the aspiration of the people.

"These arrangements will allow for a normalization of life that has all too often, and perhaps today, seemed like a cruel hope for the people of Yemen," Griffiths said. He thus called on all parties not to disappoint the people and deliver Yemen from its plight.

Covid spike, famine

Griffiths also said that the situation in Yemen, the world's largest humanitarian crisis, has exacerbated with the second wave of Covid-19 infections, which is hitting the population "with a new ferocity".

The UN Humanitarian Coordinator, Mark Lowcock, agreed with him saying, "Covid has come roaring back in recent weeks". "A new wave of infections has more than doubled the number of confirmed cases in just six weeks," he told the Security Council. More people are falling sick, including doctors, nurses and aid workers, and hospitals and health facilities are increasingly turning people away because they have no more room or lack supplies.

Lowcock noted that this second wave is coming at a time when "large-scale famine is still bearing down on the country". "Tens of thousands of people are already starving to death, with another five million just a step behind them."

In late March, Yemen received the first shipment of 360,000 COVID-19 vaccines through the global solidarity initiative, COVAX, with another 1.6 million doses expected in the coming months. Lowcock appealed for increased support for pandemic response and in other critical areas, such as civilian protection.

Noting the build-up of tension and escalation of fighting in Marib, Taiz and Hudaydah, he said that making progress on the peace front has become even more urgent. More than 200 people were killed or injured in March, making it the deadliest one for Yemenis so far this year. Many of the displaced people have been displaced again. Lowcock lamented that the response plan for Yemen is less than 25 percent funded. 'Without more funding, millions of Yemenis will be staring down a death sentence before the year reaches its close," he warned.



For more information click here......


Conversation
Add to Conversation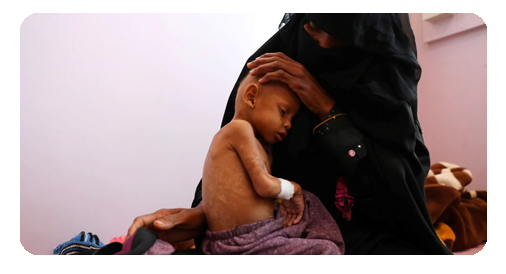 <! ----------->

Rating for December


| | | | | |
| --- | --- | --- | --- | --- |
| | 0 | | | 0 |
Please click to rate 'thumbs up' or 'thumbs down'...
Activity
Listen to the audio by clicking play.

Raising the issue in your families and communities.

Pray for the people of Yemen.
(Print Page)
Page Counter
4 visitors this month.