By Sister Shelia Manalo

The Marist Sisters General Chapter will be held in Rome starting on Sunday April 24. "The main goal of the General Chapter is to preserve and foster the spiritual patrimony of the Marist Sisters' Congregation. It examines carefully what the Lord expects of us, by taking into account the directives of the church, developments in contemporary society and the aspirations of each Units (or region). It calls us to conversion and renewal and decides on the means best suited to bring this about in accordance with our spirit." (Constitution: 97) "The General Chapter fulfils functions of primary importance: it elects the Superior General and the General Councillors…" (Constitution: 98)

The Chapter is concerned with how the Marist Sisters' charism can be embraced, lived, applied in the changing contexts of our time. The chapter uses a process of communal discernment 'to stir the flame' and to respond to the needs of our church and world in the way God leads us during which we will listen to the Spirit to seek the will of God for the whole Congregation. This has key daily elements of:
faith sharing,
work in language groups (Base Groups) and
work in mixed groups (Consensus Groups).
In preparation for the Chapter a General Circular was sent to Marist Sisters across the world consisting of three documents that formed the Chapter preparation – Interculturality -Story telling, Deep Story-shared by each of us that of our Congregation and preparing for the election of delegates .

The theme from this preparation of the Marist Sisters Chapter was "Crossing Thresholds, Bearers of Hope"

The right and elected Marist Sister delegates will comprise those who attend the Chapter from each international region or unit.

In your communities, schools and individually, please think and pray deep prayers to accompany us up until May 15.

Please join and encourage others to pray the "Bearers of Hope Prayer for the Marist Sisters" each day.



For more information click here......

<! link rel="stylesheet" href="style.css" type="text/css">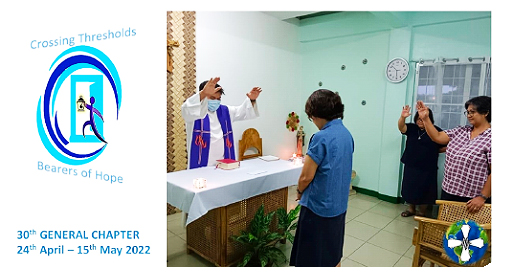 <! ----------->

Rating for January


| | | | | |
| --- | --- | --- | --- | --- |
| | 0 | | | 0 |
Please click to rate 'thumbs up' or 'thumbs down'...
Activity
Please pray and think of the Marist Sisters at this time.
(Print Page)
Page Counter
26 visitors this month.