I hope you are in good health and thank you for being such an important part of Mahboba's Promise. I am humbled by your continued support as without your generosity, this organisation would not exist.



I regret to write to you that the situation in Afghanistan is deteriorating very quickly. In over 40 years of war, I have not seen the situation so devastating as it is today.



The violence in Kabul and the northeast has forced hundreds of thousands of terrified families to flee their homes in desperate search of safety.



I know first-hand what it is like to flee your home in the face of war and terror. When families flee the terror, they have no choice but to escape quickly, with very few or no possessions.In search of safety, families are left without access to food, shelter and essential items we take for granted. Please help us support the innocent victims caught in the cross-fire between the Taliban and the government. 



We are doing all we can to help one community at a time on the ground in Afghanistan.



900 families near our  Kabul  Hope House orphanage are in desperate need of our help and have set up a makeshift camp.


For $150 dollars we can provide food, shelter, water, clothes and sandals for one family for three months. We have a goal to raise $135,000 to create a camp to provide adequate needs and basic necessities for 3 months for all 900 families.

Together we can do this and make a real change to so many innocent lives.


 Reaching our target goal of $135,00 will ensure we:
Set up 40 large tents at the camp to house families in need
Supply a shared large water tank on the camp - to allow children and families access to clean drinking water
Provide bread and basic food daily for families
Supply each person sandals and a change of clothes 
Your donations will go a long way for a long time and make an immediate difference.



For as little as $10, your support and generosity will help us reach our goal. Together we can make a real difference.



To donate, please follow the link to our  Emergency Appeal Programme.



For more information, please don't hesitate to contact our office on +61 2 9887 1665.



With God's Blessing,



Mahboba Rawi

Founding Director and Vice President





For more information click here......

<! link rel="stylesheet" href="style.css" type="text/css">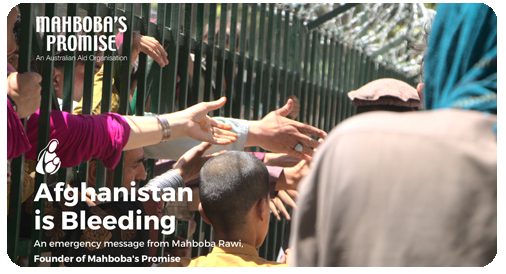 <! ----------->

Rating for January


| | | | | |
| --- | --- | --- | --- | --- |
| | 0 | | | 0 |
Please click to rate 'thumbs up' or 'thumbs down'...
Activity
Listen to the audio by clicking play.

Mahboba Promise has workers working in Afghanistan offering much help.

Help today by donating to Mahboba Promise.
(Print Page)
Page Counter
18 visitors this month.