One Spanish yacht. A quarter of a million square kilometres of sea. Boatloads of desperate men, women & children fleeing for their lives. Can a Barcelona crew help the thousands on this risky journey and steer them to safety?

Oscar Camps' company runs the lifeguard services on the busy beaches of Barcelona, Spain. Now there's another group of people at sea who need help, and he sees it as his duty to offer it.

'Nothing is more important than to protect life at sea,' says Oscar. 'Protecting life is not a crime, it is a duty'.

In summer when the Mediterranean is calm, the sea becomes Europe's deadliest migrant crossing as people flee Africa for a better life.

Oscar Camps and his crew of trained lifeguards know that the consequences for those fleeing can be fatal: 'Thousands of deaths every year, between two and three thousand each year, repeatedly and continuously.'

But Italy wants to stop boat migration and in April it impounded Open Arms's rescue ship. In defiance, the crew is taking out a yacht, the Astral.

Reporter Eric Campbell joins the crew on the Astral on a dramatic journey of search and rescue on the Mediterranean.

They meet boatloads of people from different countries and with different stories but all have one purpose: destination Europe.

They come across a tiny boat with more than 70 men, women and children. Foating in the dark, one migrant who came from as far as Zimbabwe says "it's fifty/fifty" whether we live or die.

They meet a sinking boatload of young Tunisians, including minors, fleeing after a coup in their country.

They encounter a people smuggler lying about a dying baby to trick them into mounting a rescue.

And they come up against Italy and the EU's increasingly hardline policy on asylum seekers, even paying Libyans to turn boats back at gunpoint.

Disembarking in Sicily, Campbell talks to migrants who've already made the perilous journey but now regret it, as life in Europe is so tough.

The recent arrivals have a warning for would-be migrants: don't come! But the boats keep coming.

For those on the Astral, their only concern is saving lives. After two weeks, the Astral conducts 15 rescue mission and helps nearly 400 migrants.



For more information click here......


Conversation
Add to Conversation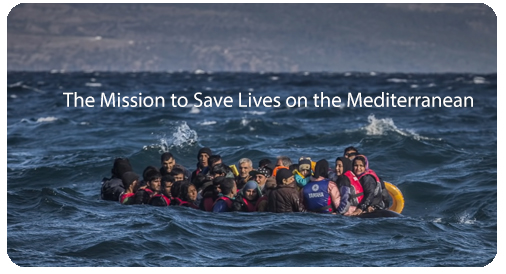 <! ----------->

Rating for December


| | | | | |
| --- | --- | --- | --- | --- |
| | 0 | | | 0 |
Please click to rate 'thumbs up' or 'thumbs down'...
Page Counter
8 visitors this month.