This is a liturgy for the fourth Sunday of Advent. Here is the reflection in the attached liturgy. Please download and share in your family, community or class.

Reflection
Mary was a 13 or 14-year-old girl when the angel invited her to bear God's son. From an outsider's perspective in the Jewish culture 2024 years ago, it would seem that Mary has committed a great sin. However, God works his most wonderful miracle through what would seem as a sin, in a poor and unmarried girl.

Often today we can get caught up in what is right and wrong. Trying to keep up with the expectations of our culture or even our religion. Here we miss God's vision.

The annunciation shows us that God works in surprising and unexpected ways. It is the poor who hear the word of God and respond as do the poorest of the poor (or unawin) in the Old Testament.

Are we too able to hear the word of God?

This Christmas are you willing to become the angel of good news for the poor and needy in your world?

The "yes" that Mary answered it simply not just with words………… but with actions. Mary is willing to become poor in order for God's spirit to be born. To risk her life to bear a son.

Are we willing to become poor for the sake of God's spirit to be born in you?

Download Power Point




For more information click here......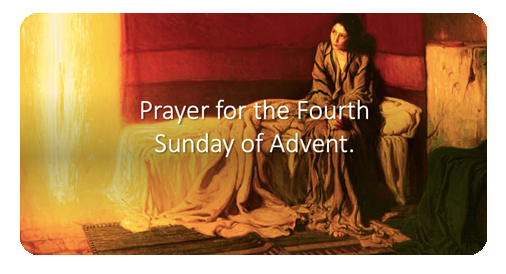 Activity
Please join us as a family, community or class to help celebrate the fourth Sunday of Advent.

Through reflection, Gospel, Image, Common Prayer and Song.

Please download the power point and share with others. Click on the DOWN arrow.
Page Counter
24 visitors this month.