MMC Winter 2021 NewsletterChallenging times can bring out the best in people. This is the story of Marist Mission Centre (MMC) over 72 years and especially over the last twelve months.

We have all witnessed the kind and generous hearts of our fellow Australians over the past year as we faced drought, fires, floods, Covid 19 and their impact on the employment and financial realities of families and the business community.

MMC donors have been especially kind and generous during these challenging times. The Cycling for Children Appeal 2021 for the building of a classroom block at St. Raphael's Elementary School at Tabago, Buin, Bougainville has been very generously supported.

We continue to hear sad stories from the Myanmar refugees in Thailand. MMC funds a hostel program for young refugees and an education and health program in Ranong. Some of these programs have been disrupted due to the uncertain and violent times in their country. The refugees from Myanmar attending our program in Ranong Thailand are directly across the border from Myanmar and these young people are deeply concerned for their families and relatives back in Myanmar.

On the back page of this Newsletter is an overview of the programs and activities supported by your donations in 2020. The AMCOA Audit Financial Statements for 2020 are available on the MMC website.

As always MMC welcomes your feedback and comments.

We celebrated the feast day of St Peter Chanel on April 28th, a Marist priest and first martyr of the South Pacific. His life and commitment to the people of Futuna is an inspiration to all who support our Marist missions.

With my thanks and blessings.

Fr Paul Sullivan sm MMC Executive Officer



For more information click here......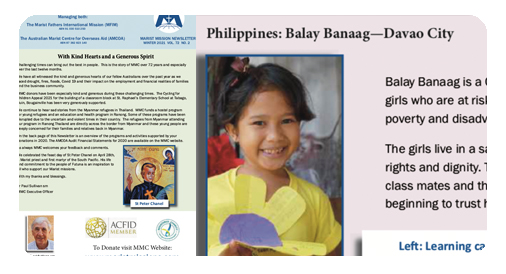 Activity
Listen to the audio by clicking the play button above.

Download the PDF newsletter by clicking the source link.
Page Counter
8 visitors this month.