My name is Zar Zar and I am 17 years old. I live in Ranong with my father, mother, and cousins. My parents are Mon ethnicity and also migrant workers. I am currently studying at Marist Asia Foundation (MAF) in Ranong, Thailand.

There are seven members in my family, but we do not live together. My two brothers and one of my sisters are working in Bangkok. The other sister is working in Phuket.Unfortunately, they did not get to study well when they were young because there were many challenges in my family. There were no learning centers as many as today, my parents could not support, and they had to work since they were young.

In the past, the Burmese children who did not have documents were not allowed to study and they ended up studying at home. Since it was illegal, they had to run and hid when Thai soldiers came to check on them. So, many migrants were out of school since they were very young. However, I have the opportunity to continue my education with family support.

Even though all of us do not see each other often, we always keep in touch and they are concerned about our parents. We have never had a meal together as a whole family, but I hope that one day our family will be reunited.

I studied at Sea Dragon learning center in Ranong when I was grade-6. There were a lot of weaknesses and challenges such as not enough teachers to teach the students for higher

grade, insufficient resources like textbooks, teaching materials, and so on. So, we got to learn only a few lessons from the textbooks.

I started to love learning English and I wanted to be a lifelong learner. So, I tried hard to pass the entrance exam at Marist. Luckily, I passed the entrance exam and got more opportunities to study. Most of my classmates praise me that I am intelligent, but they do not even know how hard I tried. In my opinion, no one can succeed without diligence and perseverance.

I am always eager to know and I ask the question "why should people only have one dream?" As for me, I have a lot of dreams, but the most important one is that I always want my family to be happy. Here are some other dreams (1) I would like to study until I obtain ACU diploma. (2) Travel around the world to learn new experiences. (3) I would like to open my own shop. (4) I would like to build a house before my parents die.

I would like to thank my older brothers and sisters because they have been supporting me to be able to study. My dreams are very simple, and I believe that I can achieve them. Some people do not believe their dreams are possible to become true. I know that it is not easy to achieve our dreams and we must put our effort in as much as we can, and be patient with them even though there are many failures and fatigues to be faced. To be able to succeed we must be confident and believe in ourselves.

There is also something that I would like to help in my community. I would like to help Burmese migrants in the ways I can such as helping them when they need help, listening to their feelings, encouraging them, and sharing with them the knowledge I have. I always want to help them with knowledge rather than giving out money and things. They are not able to take care of themselves in terms of heath because they are struggling for their living.

The children in Ranong are not able to study well because their parents cannot support them and I was one of them. I almost dropped out from schools due to the hardship in my family. Fortunately, I was able to continue my study again with the help of Marist. This is the reason why I always study hard and I want to help vulnerable people like me.

From my point of view, it is not fair for children to not be able to go to school just because of the hardship of parents. Education is the most important thing for children because they will be the new generation of young people in the future. Therefore, I would like to give the chance to the children to learn, and migrant workers who need it.

In conclusion, I am deeply saddened and concerned by the current situation in Myanmar. We also pray for the return of normalcy to our motherland and the safety of all Burmese people in Myanmar. While I think about the future of Myanmar, it is very sad. Finally, I hope that our motherland will improve and develop in the future.



For more information click here......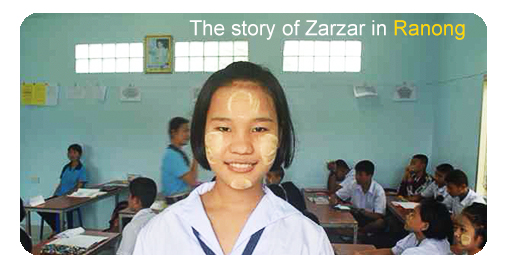 Activity
Listen to the story by clicking play above.
Page Counter
11 visitors this month.