Playing basketball …

I am going pro…

Woo…okay.. Yeah. I don't know. You probably will be as good as I was. That is kind of the way it works you know. I was below average. You probably ultimately rank somewhere around there you know. You will excel in a lot of things. But not this. I don't want you out here shooting this ball all day and night. Alright.

Alright.

Clear. Am I clear?

Throws basketball away…

Hey. Don't you ever let someone tell you. You can't do something. Not even me. Alright?

Alright.

If you have got a dream. You have got to protect it. People can't do something themselves. They want to tell you you can't do it. If you want something. Go get it. Period.

Lets go…





For more information click here......


Conversation
Add to Conversation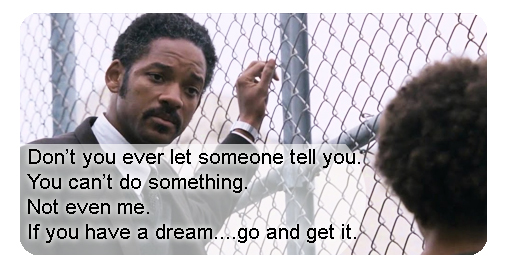 <! ----------->

Rating for December


| | | | | |
| --- | --- | --- | --- | --- |
| | 0 | | | 0 |
Please click to rate 'thumbs up' or 'thumbs down'...
Activity
Watch the video clip by clicking play.

Deep...Deep...Down....What does your heart long for...?
(Print Page)
Page Counter
4 visitors this month.