Dr Miriam-Rose Ungunmerr collaborated with Producer and Director, Pip Gordon of The Gathering Tree with support from DLUX Media and Djilpin Arts in Katherine, with original music composed by Michael Kokinos, in producing a short teaser film about Dadirri - A Gift To The Nation. In Miriam's language, 'Dadirri', is the practise of Deep Inner Listening and quiet still awareness, which connects us and nurtures spiritual well-being. The finalised film is still in production, with release expected early 2017



For more information click here......


Conversation
Add to Conversation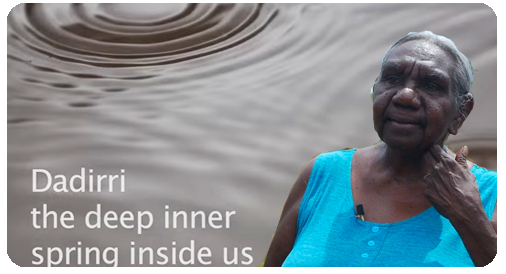 <! ----------->

Rating for December


| | | | | |
| --- | --- | --- | --- | --- |
| | 0 | | | 1 |
Please click to rate 'thumbs up' or 'thumbs down'...
Activity
Include this Dadirri in your prayer today.

Share this with your family or community as they pray.
(Print Page)
Page Counter
8 visitors this month.