In the movie 'The Shack,' the 'together' scene is a pivotal moment where the main character, Mack, is struggling with the deep pain and anger he feels towards God after the tragic murder of his young daughter. In this scene, God explains to Mack that despite the immense pain he is going through, God has been with him through his suffering, experiencing it alongside him. God is portrayed as being deeply empathetic and sorrowful about Mack's loss. This scene addresses the problem of evil and suffering in the world and God's presence (or perceived absence) in the midst of human pain. It's a cinematic exploration of the theme that God does not cause suffering but is present with humans in their suffering. This scene, like the book it's based on, is an attempt to provide comfort and understanding about how a loving deity can exist in a world where terrible things happen.



Questions for further reflection and discussion
How does the 'together' scene in 'The Shack' challenge or reinforce your understanding of the nature of God's presence in human suffering? Do you think the portrayal of God's empathy in the face of tragedy aligns with your own beliefs or experiences?


In what ways can the idea that God suffers with us provide comfort or raise further questions when confronting personal tragedies or injustices in the world?


The Shack addresses themes of forgiveness and reconciliation in the face of unbearable loss. How do you think the process of forgiveness is portrayed in this scene, and what insights does it offer for those grappling with their own experiences of loss and forgiveness?
For more information click here......
Conversation
Add to Conversation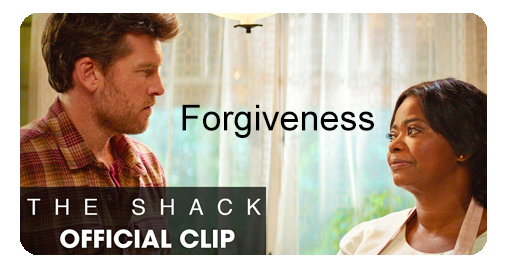 <! ----------->

Rating for December


| | | | | |
| --- | --- | --- | --- | --- |
| | 0 | | | 0 |
Please click to rate 'thumbs up' or 'thumbs down'...
Activity
Watch this scene.

Reflect and ponder....

Is God their in our deepest sufferings?
(Print Page)
Page Counter
22 visitors this month.