Steve Biddulph likes to remind us that humans are 'big sensitive mammals' with needs for connection and self awareness.

As a psychologist (now retired) and parent educator, he has been at the forefront of an evolving conversation about masculinity, emotional intelligence, caring for our children and making sense of our own childhoods.

His best-selling books include The Secret of Happy Children, Raising Boys, Raising Girls and Manhood.

But it wasn't until he was in his mid-50s that Steve gained an insight into a huge facet of his own story.

He was having a lunch with a friend, a psychiatrist, who began asking him a series of pointed questions.

That conversation shifted almost everything about how Steve saw himself.



For more information click here......


Conversation
Add to Conversation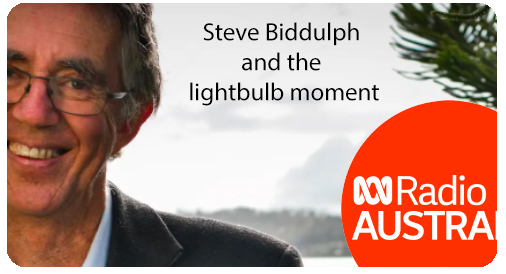 <! ----------->

Rating for December


| | | | | |
| --- | --- | --- | --- | --- |
| | 0 | | | 0 |
Please click to rate 'thumbs up' or 'thumbs down'...
Page Counter
6 visitors this month.