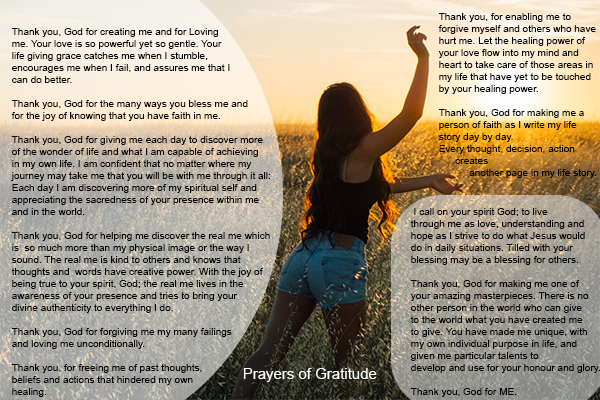 Thank you, God for creating me and for Loving me. Your love is so powerful yet so gentle. Your life giving grace catches me when I stumble, encourages me when I fail, and assures me that I can do better.

Thank you, God for the many ways you bless me and for the joy of knowing that you have faith in me.

Thank you, God for giving me each day to discover more of the wonder of life and what I am capable of achieving in my own life. I am confident that no matter where my journey may take me that you will be with me through it all: Each day I am discovering more of my spiritual self and appreciating the sacredness of your presence within me and in the world.

Thank you, God for helping me discover the real me which is so much more than my physical image or the way I sound The real me is kind to others and knows that thoughts and words have creative power. With the joy of being true to your spirit, God; the real me lives in the awareness of your presence and tries to bring your divine authenticity to everything I do.

Thank you, God for forgiving me my many failings and loving me unconditionally.

Thank you, for freeing me of past thoughts, beliefs and actions that hindered my own healing.

Thank you, for enabling me to forgive myself and others who have hurt me. Let the healing power of your love flow into my mind and heart to take care of those areas in my life that have yet to be touched by your healing power.

Thank you, God for making me a person of faith as I write my lift story day by day. Every thought, decision, action creates another page in my life story. I call on your spirit God; to live through me as love, understanding and hope as I strive to do what Jesus would do in daily situations. Tilled with your blessing may be a blessing for others.

Thank you, God for making me one of your amazing masterpieces. There is no other person in the world who can give to the world what you have created me to give. You have made me unique, with my own individual purpose in life, and given me particular talents to develop and use for your honour and glory.

Thank you, God for ME.

Open FULL JPG

PRINT PDF

PRINT BOOKMARK. Cut around the edge. fold and laminate. Give as a gift.



For more information click here......


Conversation
Add to Conversation



<! ----------->

Rating for December


| | | | | |
| --- | --- | --- | --- | --- |
| | 0 | | | 0 |
Please click to rate 'thumbs up' or 'thumbs down'...
Activity
PRINT and share with your family or community. Give the prayer as a gift.

Click the RED thumbs up above.

Share this page by clicking the SOCIAL media icon below.

Include this prayer each day over the next week.

Open FULL JPG

PRINT PDF

PRINT BOOKMARK. Cut around the edge. fold and laminate. Give as a gift.
(Print Page)
Page Counter
20 visitors this month.