If we are to truly reflect the divine feminine and masculine image, we must consider women in leadership. Yet, our culture and our Catholic tradition choses to say "this is not our practise". This is not just about who is right and who is wrong, but rather, if we do not embrace more women in leadership, what will that do? I can see what it has done, and this has been devastating.

Catholic Bishop Geoffrey Robinson wrote a book "For Christ's Sake: End Sexual Abuse in the Catholic Church" about 12 areas that need to change in order to avoid the devastation of the sexual abuse Crisis in our church. One of the 12 roles is of women in leadership.

Many churches ordain women. Surely the Holy Spirit is in these churches, is it not?

We need to get past what has happened in the Garden of Eden. Eve was not to blame for eating the apple. Rather, Adam had a role which was to guard the garden. Unfortunately, he did not complete his task. The snake entered the garden. We need a new lens for seeing a way forward. A lens which does not throw out tradition, but actively chooses what is most right.



For more information click here......


Conversation
Add to Conversation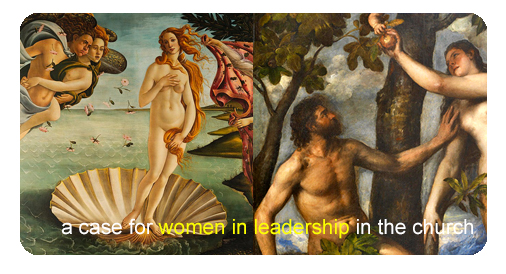 <! ----------->

Rating for October


| | | | | |
| --- | --- | --- | --- | --- |
| | 0 | | | 0 |
Please click to rate 'thumbs up' or 'thumbs down'...
Activity
Please click on the audio link above.

Reflect - Why women in leadership and Why not women in leadership?

This question is more than about tradition. It even moves beyond ethics of what is right, but rather one of theology.
(Print Page)
Page Counter
2 visitors this month.