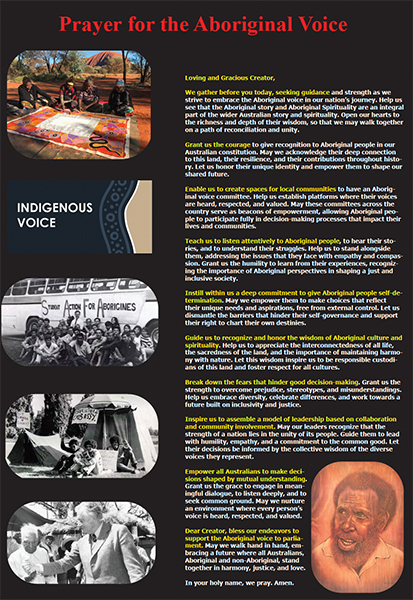 Print A3 PDF Copy

Loving and Gracious Creator,

We gather before you today, seeking guidance and strength as we strive to embrace the Aboriginal voice in our nation's journey. Help us see that the Aboriginal story and Aboriginal Spirituality are an integral part of the wider Australian story and spirituality. Open our hearts to the richness and depth of their wisdom, so that we may walk together on a path of reconciliation and unity.

Grant us the courage to give recognition to Aboriginal people in our Australian constitution. May we acknowledge their deep connection to this land, their resilience, and their contributions throughout history. Let us honor their unique identity and empower them to shape our shared future.

Enable us to create spaces for local communities to have an Aboriginal voice committee. Help us establish platforms where their voices are heard, respected, and valued. May these committees across the country serve as beacons of empowerment, allowing Aboriginal people to participate fully in decision-making processes that impact their lives and communities.

Teach us to listen attentively to Aboriginal people, to hear their stories, and to understand their struggles. Help us to stand alongside them, addressing the issues that they face with empathy and compassion. Grant us the humility to learn from their experiences, recognizing the importance of Aboriginal perspectives in shaping a just and inclusive society.

Instill within us a deep commitment to give Aboriginal people self-determination. May we empower them to make choices that reflect their unique needs and aspirations, free from external control. Let us dismantle the barriers that hinder their self-governance and support their right to chart their own destinies.

Guide us to recognize and honor the wisdom of Aboriginal culture and spirituality. Help us to appreciate the interconnectedness of all life, the sacredness of the land, and the importance of maintaining harmony with nature. Let this wisdom inspire us to be responsible custodians of this land and foster respect for all cultures.

Break down the fears that hinder good decision-making. Grant us the strength to overcome prejudice, stereotypes, and misunderstandings. Help us embrace diversity, celebrate differences, and work towards a future built on inclusivity and justice.

Inspire us to assemble a model of leadership based on collaboration and community involvement. May our leaders recognize that the strength of a nation lies in the unity of its people. Guide them to lead with humility, empathy, and a commitment to the common good. Let their decisions be informed by the collective wisdom of the diverse voices they represent.

Empower all Australians to make decisions shaped by mutual understanding. Grant us the grace to engage in meaningful dialogue, to listen deeply, and to seek common ground. May we nurture an environment where every person's voice is heard, respected, and valued.

Dear Creator, bless our endeavors to support the Aboriginal voice to parliament. May we walk hand in hand, embracing a future where all Australians, Aboriginal and non-Aboriginal, stand together in harmony, justice, and love.

In your holy name, we pray. Amen.



For more information click here......


Conversation


Marist - I wonder what it means to cultivate a spirit of courage and resilience, as exemplified by JeanneMarie Chavoin, in the face of challenges and adversity.
(By A. D. - Marist Laity - from AUSTRALIA. - 2023-7-8)

Quote - There are deep springs within each of us. Within this deep spring, which is the very Spirit of God, is a sound. The sound of Deep calling to Deep. - Aboriginal Elder Miriam Rose Ungunmerr
(By A. D. - Marist Laity - from AUSTRALIA - 2023-8-21)

Quote - A faith that does not trouble us is a troubled faith. - Pope Francis
(By A. D. - Marist Laity - from AUSTRALIA - 2023-8-21)


Add to Conversation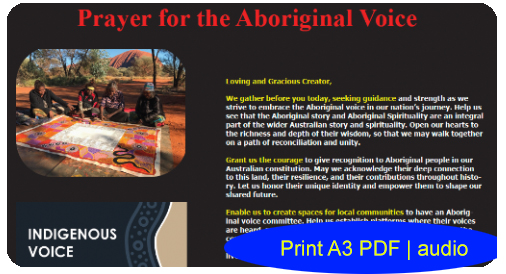 <! ----------->

Rating for October


| | | | | |
| --- | --- | --- | --- | --- |
| | 0 | | | 0 |
Please click to rate 'thumbs up' or 'thumbs down'...
Activity
PRINT the A3 PDF copy.

Listen to the audio by clicking play.

Click the RED thumbs up above.

Share this page by clicking the SOCIAL media icon below.
(Print Page)
Page Counter
19 visitors this month.