1989. Two lines of Kurdish refugees, children in the foreground and adults behind. Eyes forward or staring down the barrel of the camera, they stand squashed together, chests pressed into the backs of their line neighbour as though queueing for some inane activity. Only one young boy in a small blue parker breaks the continuity by looking directly into the camera and smiling. His smile is broad and genuine, as though he recognises the photographer – as one would smile at a friend or a beloved relative. He is calm. He shows no fear. He looks happy.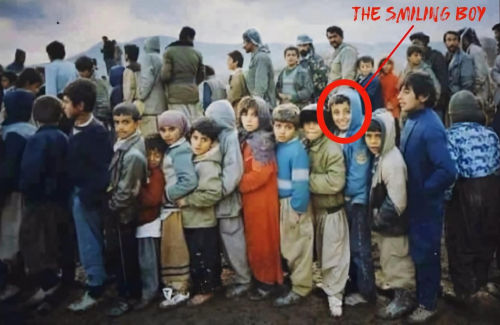 It's a sobering image when you realise that these people are being lined up to be killed by Iraqi soldiers and were marked to be buried alive shortly after the picture was taken.

Farhad Bandesh, the driving force behind the protest song entitled The Smiling Boy is a Kurdish refugee (it's worth noting that the population of his people are spread between Northern Iraq, Iran, Syria and Turkey) who had been imprisoned on Manus Island after fleeing persecution in his home country. After the second world war, the Kurdish people where promised a nation state of their own. This never eventuated. In 2013 Farhad fled persecution in his home of Ilam, a city in Iranian Kurdistan. Upon arriving at Christmas Island by boat from Jacarta he was immediately exiled to Manus Island detention centre.



The Smiling Boy is accompanied by a fully animated film clip – directed and produced by Neil Sanders (Melbourne's own LoopdeLoop 'Loop-King'). Perhaps you may not consider him the first choice to tackle such a subject and Neil himself goes onto to say 'At first I thought this was not a project suited to me, I usually draw silly wobbly characters that make funny noises, but the moment I heard the song I was drawn in. Farhad's story and passion in his delivery of it are an animator's dream come true.'

Animation is the perfect medium to visually explain such an intensely evocative subject matter. The ability to employ powerful visual euphemism and metaphor with grace and dignity as well as presenting brutally honest accounts of reality is an intrinsic truth of the artform, that animators and lovers of animation expect of auteur animated storytelling. The Smiling Boy does not fail in its delivery of using animation for its truest artistic purpose – a straddling of reality and metaphor to produce storytelling that is engaging, affecting and emotive.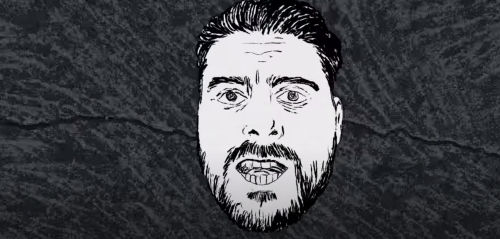 Speaking with Neil about his goals for the film clip he says 'My hope is that it refocuses the debate on refugees around the human cost of Australia's border policy. Our government has treated these people like chess pieces to deter further arrivals, ignoring their humanity and international law.'

At the time of interview, Neil commented on Bandesh's status as an incarcerated refugee 'Farhad has been a refugee for 6 years at Manus Island Papua New Guinea, and 1 year in detention at MITA, Melbourne. He is still waiting for freedom (Dec 11 2020 will be his 8th detention birthday!), and continues to write and release songs about himself and the 1300+ refugees still detained indefinitely by Australia.'

It was during his time at MITA that Farhad connected with not-for-profit organisation Wild At Heart who specialise in mentoring the creative talents of marginalised individuals. In a stroke of luck, Farhad was supported in his musical creative pursuits whilst still held in detention by Wild At Heart, who encouraged, mentored and lifted him up. Speaking briefly to program manager, Sally Balhorn said 'We set him up with his mentors and gave feedback on the song's progress which no doubt made an impact on the trajectory of Farhad's creative journey.'


Commenting on the message behind the song and film clip Neil explains what he and the creator hope to present to the audience 'Farhad's song relates the suffering and resilience of the Kurdish people to his personal struggles in detention. You can hear in his voice the strength he draws from the ongoing struggle of the Kurdish people and how it helps him to maintain his courage in the face of indefinite detention.'



For more information click here......

<! link rel="stylesheet" href="style.css" type="text/css">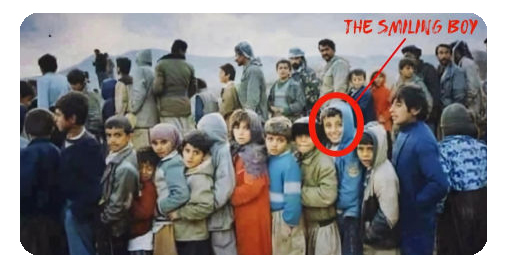 <! ----------->

Rating for January


| | | | | |
| --- | --- | --- | --- | --- |
| | 0 | | | 0 |
Please click to rate 'thumbs up' or 'thumbs down'...
Activity
Share this story and video with 3 other people in your family or community.

Ask 3 people to click on this link, listen to the audio and watch the above video.

Discuss
What would it feel like to be a Kurdish refugee?
How should Christians respond?
What does the video (music clip) communicate?
(Print Page)
Page Counter
19 visitors this month.