In 1994 the world turned its back on the country of Rwanda. Over 600,000 died in a genocide. This movie documents the story of Hotel manager Paul Rusesabagina brave act to protect 1000s of refugees from being killed.



In this clip Paul is letting the injured people into the hotel so that they will be safe and can get help.



In this scene Paul is staying at the hotel to make sure that everyone is safe and he doesn't want to leave those people alone to die.



For more information click here......

<! link rel="stylesheet" href="style.css" type="text/css">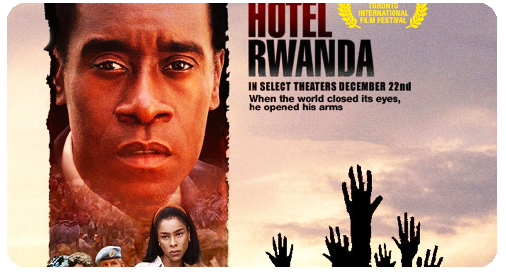 <! ----------->

Rating for January


| | | | | |
| --- | --- | --- | --- | --- |
| | 0 | | | 0 |
Please click to rate 'thumbs up' or 'thumbs down'...
Activity
Students answer the following questions.
Explain the conflict between the Hutu and the Tutsi.
What 3 Catholic Social teachings are present in the film.
How does Paul Rusesabagina model a Christian way of life?
(Print Page)
Page Counter
19 visitors this month.