By John Thornhill sm

The Magnificat is probably the most revealing text about Mary. It comes from Saint Luke. Saint Luke really loved Mary and was very interested in Mary. There is a rich number of text in Luke's infancy Gospel and the other parts of the Gospel. The Magnificat comes in the time of the visitation. It has been pointed out that Elizabeth praises Mary quite remarkably. The mother of the Lord has come to visit her. Elizabeth is in awe, but then Mary praises God. There is a sudden switch from the person of Mary and then on God. Obviously there was no reporter there to take down what Mary said on this certain occasion. The Magnificat is a skilful crafted text of scripture. I presumed Luke in the background, the one who inspired the Christian community who gave us this Gospel. Luke no doubt made a big contribution and others like him.

Meditating on the scriptures they could have hardly make a more wonderful work in our midst and all God has done for the world. What the Holy Spirit is affirming inspiring this text and making it a part of the churches scriptures. In that what had God had done for the world as the Old Testament ends on the part of Mary. We see the heart of Mary. Her own Spirit and her own greatness and depth of her faith and commitment as we follow through the Magnificat.

Mary has met God. A later verse relates to Mary and God. God has looked on the lowliest of his servant. Scripture scholars have wrested with what "lowliest" really means. At the Annunciation Mary said "behold the handmaid of the Lord". Many scholars think that is too weak. "Handmaid" is someone who agrees to do something. In other words there is an interaction. I will do my bit and I will help you with what I can do. But, really what has happened to Mary, that, suddenly she has bean possessed by God without any preparation of knowing what was going to come. The word some scholars would prefer is I am the "slave" of God. Slave does not have any say in suddenly being put into a role. Mary has suddenly found herself pregnant, aware that some great mystery is unfolding in her very person. Aware that the faith she has in God is coming into the fulfilment for the whole world. Mary is an instrument in God's hands. Suddenly possessed and placed in the situation. She exclaims in wonder and rejoices in the depths of God's love and God's goodness the wonder of God's doing in her.

"My spirit rejoices". Joy. How often do Christians express their joy? Mary is giving us an example of Joy. As Mary sets off in this journey. Of being the slave of God she is filled with joy.

"The all mighty has done great things for me and holy is his name". Holiness is a very churchy word. Holiness has lost all it's wonder and power. When the angels in the scriptures and the Psalms cry "holy, holy, holy", they are expressing the absolute awe and wonder before the divine greatness. Awe or fear. Fear of God is not being frightened of God. Awe or fear is about coming into the presence of the boundless mystery of God and God's ways and what God is doing. I am in the presence of this mystery".

Mary then speaks of Mercy. Mercy is from age to age. As I was thinking about this. I was thinking the "mercy of God" is such a common phrase. That it too tends to loose it's power and it's absolute wonder. Pope Francis has said "we need a revolution of tenderness". Mary has said that God's work "is a work of Mercy". Mercy is love in the presence of need. Here we see God who needs nothing, but sees our need and bows down and gives his son to us in our need. If we bring in Pope Francis' concept of tenderness and we say "God's tenderness is from age to age". Suddenly it gives us a new warmth and a new inspiration. We need to find the tenderness of God. Our church has been living for centuries with the anger of God. With a sense of punishment. Did not God come among us in his son in all that we know his tenderness. His mercy is not some solemn or official attitude he has taken. All that we love and treasure and tenderness in human life. That is the direction of what we would find in God. Then we will really know our God. His mercy is tenderness. Tenderness is expressed.

"He has done great things for me" Mary says. "All generations will call me blessed". She is not praising herself. She is praising the tenderness of God who does great things and deserves to be praised. God's of the people and the pagans of this world were the God's of strength and power. It is absolutely amazing when the Old Testament or Hebrew scriptures was developed that God was a liberator. God who came to the needs of his people. Mercy. There is a design from Abraham's time. . He sees a people in bondage. His first act is an act of mercy and caring. Not an act of domination. An act of freeing. Liberating. Mary is in tune with this.

"He pulls down the mighty from their thrones". God has great plans for the whole world. If only the world learned God's ways and lived according to God's ways. Our problems would disappear. We would not be worse off. We would be measurably better off if we learnt God's ways. Pride, Arrogance and selfishness obstruct and obscure God's ways. Obscure what God is trying to offer the world. Mary says "he pulls down the proud and raises up the lowly". Raises up the little ones. Pope Francis says "we have to remember the middle class Christians. The little class Christians". The little people who are heroic looking after their families. Caring for one another. Making big sacrifices. To do what is right for those around them. No one even notices them. They are just taken from granted. These are the lowly. These are the one's who are really carrying God's ways with them. In our Christian church Mary is encouraging us to move in the same way.

"He fills the starving with good things". The world is hungry. Not only hungry in a physical sense. But hungry in the yearnings of the heart are one of the ways people come to know God's ways. God's ways are shown to us in the yearnings of the heart. If the yearnings of the heart followed through they would all lead us back to what God was asking of us. What good life really means. What the fulfilment of our human existence really means. That hunger is spoken about in the Beatitudes or justice. That hunger God fills the hungry with good things.

"He sends the rich empty way". The rich or those who think that by their power and their wealth and their influence that they are the ones who run the world. He sends them away. They are not on the right track. They are blocking the way. The ordinary little people who want to follow the way.

As Mary comes to the end of the Magnificat, she sums up the whole thing in terms of the great plan of God. That God promised to Abraham and to his sons. The ways of his mercy. Again mercy comes in. The tenderness of God. The tenderness of God chose a nomadic people and made them the front runners and a light to the world. They had failed time and time again. But God was always ready to forgive them. Always ready to make a new start. Always ready to offer a new covenant to them. It is fulfilling a great plan. From the beginning he has had this plan of tenderness and mercy. Mary is in tune with it. That is the beautiful thing you will find the Magnificat. That Mary on the threshold of a great life and journey of faith, is so in tune with the whole message of God's people's experience down to the very time in which she becomes the mother of Jesus.



For more information click here......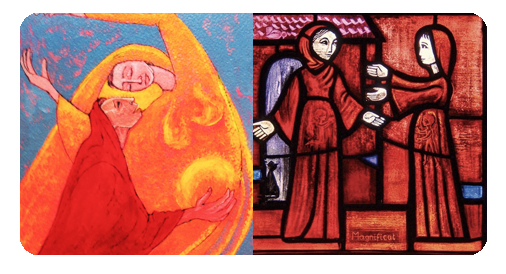 Activity
Listen to the audio by clicking the play button above.

Reflect on how Mary inspires you to follow God.
Page Counter
23 visitors this month.