Yesterday it was raining very heavy in Sydney. I thought it would be a good chance for my family to go to church on Sunday morning. Since COVID 19 our regular Sunday mass attendance, as a family, had almost disappeared. Instead, when it is sunny my family goes and spends 2 or 3 hours skateboarding at the local park, whilst, I would take my mum to church. It was hard because the local church, up until recently would only accept 100 people total. Thus, having a family of 7 (with grandma) is much harder than just mum and me (2).

As we travelled to church on Sunday morning, my children argued at length with me. But Why do we need to go to church? I used everything I could in my theological knowledge to say why we need to go to church. Such as Jesus is fully present in the Eucharist. In that God is fully present 100% of the time, but we as humans are not entirely present with God. Thus, going to mass enables us to draw closer with God.The next day I shared this experience with some of my year 10 students. One student made the point "but sir, there is a difference between spirituality and religion. Why do you get your children to forcibly go to church, when it does not feed them spiritually? People today do not see religion, and going to church as beneficial.

I knew she was right. But I responded further as what I shared with my own children. That, later in life, when things fall apart. Like somebody gets really sick or someone dies or someone looses their job, we need something to fall back on. Church can provide that something when there is nothing. But, as I spoke these words both with my children and with my year 10 students, I did not hit a chord with them. The question still remained, "Why do we need to go to church when church does not feed us spiritually?"

In class we have been studying factors since the 1960s why Christians have stopped practising their faith. Like materialism where people place value in physical things, on consuming rather than spiritual things which move beyond what they can see. Like individualism where the individual self decides what is important, rather than the community or family. Like the lack and role of women in leadership in the church. The fact that God has created us male and female, yet only half of the divine image is present in leadership, sure tradition says that men have been the one's to lead, but now there is also an ethical injustice. Finally, the biggest factor in Australia in the last 10 years. The "Royal Commission into the sexual abuse of children". In Australia the Royal Commission identified over 4500 cases where priests and religious who have abused children, but also, the church hierarchy who failed to act to remove them once they were identified up until the 1970s and 1980s. Consequently, between 2011 to 2016 numbers of Christians dropped from 61% to 52%. More than at any other the time.

As I walked to the train station today, I continued to reflect on this question. I realise that Church should not be as simple as 1 hour on a Sunday. That Church, or rather, being a Christian need to embrace our entire lives. The question should not be, "why do we need to go to church", but rather, "why pray"….or…."where do we find God"……"who am I"……..thus if we are adequately answer these questions in a culture trying to abandon all church attendance, we must animate those parts of us which awaken a deeper sense of God alive in our own humanity. Only then when the mystery of life, and the mystery of God penetrates our minds, hearts, spirit and body, the answer could be more deeply found.

As a father with 3 children. Maybe I need to stop being so busy with myself and my work. Stop and be more present to those around us. To live in the living moment. Not by doing and doing and doing. But by being. Being Christian. Not scared to talk about the issues, but openly talk about them. Being real and not being caught up by our own fears and listening for the Holy Spirit to speak to us.



For more information click here......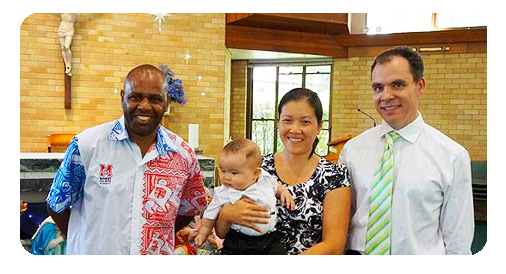 Activity
Listen to the audio by clicking the play button above.

Discuss with your family - 'why we do we need to pray?'

'What does it mean to be christian?'

'What is church?'

rather than

'Why do we need to go to church'
Page Counter
21 visitors this month.