In today's Gospel – Mark 1:14-20 – we meet Simon. We also meet Andrew. Significantly, Andrew is mentioned as Simon's brother. Simon is in fact the best known of all the disciples of Jesus, though he is not always called Simon. Jesus later give him the nickname, Peter: "(Jesus) appointed the twelve: Simon (to whom he gave the name Peter) …. " (Mark 3:16). It seems that no one had ever been called Peter before that. The nickname stuck. Every time this man is referred to in the rest of Mark's Gospel, he is called Peter, with one interesting exception. In the Garden of Gethsemane Mark tells us: "(Jesus) came and found them sleeping; and he said to Peter, 'Simon, are you asleep?' …. " (Mark 14:37). It is worth noting that St Paul uses the Aramaic version of the name – Cephas – when he makes reference to him. See for example, 1 Corinthians 1:12, 3:22, 9:5 & 15:5 and again in Galatians 1:18, 2:9 & 2:11.

Peter's name is generally given pride of place, as in today's Gospel. See also the list of the Twelve in Mark 3:16-19 and in those passages where three or four are separated out – Mark 5:37, 9:2, 14:33 – when he is with James and John – and 1:29 and 13:3 – when he is with James and John and Andrew. (We might wonder therefore about the following event: "James and John, the sons of Zebedee, came forward to (Jesus) and said to him, 'Teacher, we want you to do for us whatever we ask of you. …. Grant us to sit, one at your right hand and one at your left, in your glory'" (Mark 13:35-37). Peter is missing. What do you think might have been going on there?)

There seems to be a very special relationship between Jesus and Peter. And we, the readers, are drawn into that special relationship. This is nowhere more so than when Peter's impetuousness has him putting his foot firmly in his mouth. Recall him, for example, trying to stop Jesus from going up to Jerusalem: "Peter took him aside and began to rebuke him. But turning and looking at his disciples, (Jesus) rebuked Peter and said, 'Get behind me, Satan! …. (Mark 8:32-33). There are similar moments on the Mount of Transfiguration (Mark 9:5-6), at the Last Supper, when Peter promises to stand by Jesus until the bitter end (Mark 14:26-31) and then at the bitter end (Mark 14:66-72).

It is not difficult to imagine that the relationship between Jesus and Peter grew deeper in those moments. And we should not idealize or romanticize them. It is hard to imagine a more painful moment for Peter than his denials of the man who gave him his special name: "'I do not know this man you are talking about'. …. And he broke down and wept" (Mark 14:71-72). What makes Peter great is Jesus. How he would have treasured that special name – Peter.



For more information click here......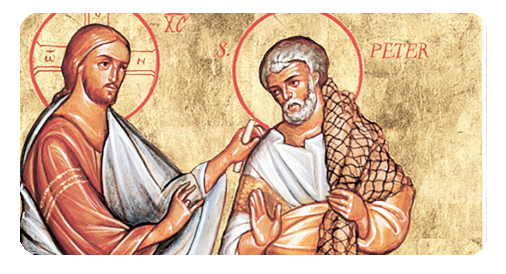 Activity
Read the days Gospel Mark 1:14-20.

Discuss the meaning over dinner with someone else.
Page Counter
18 visitors this month.